The ICRS Competency Framework
The ICRS Competency Framework forms the foundation of our Fellowship application process and our approach to CPD.
It has two interrelated elements: Guiding Principles and core competencies.
The ICRS Competency Framework
We developed the Competency Framework by consulting many CR and Sustainability professionals, including in-house practitioners, consultants, and academics. In addition, we are grateful to Business in the Community for their CR Practitioner Competency Map, which we used as a starting point.
We designed the Framework to help practitioners be successful by acting as a spring for creativity and ambition. It aims to help people have the impact they need to embed sustainability into their organisations' core strategy.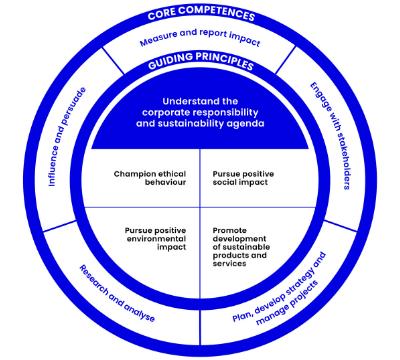 How to use the ICRS Competency Framework
The ICRS Competency Framework is not intended to be rigid – it is a guide to assist practitioners to be effective, no matter what type of organisation they work with or role they have.
CRS practitioners
Identify your skills and development goals by using our CPD Self-assessment tool. The Framework can help people at all stages of their CRS career – from novice through to senior leader. Download the full Competency Framework.
The CRS profession
The Framework can support the CRS profession in general by acting as a common reference point.
Employers
The Framework can help employers assess staff performance and develop job specifications. It can also help them assess training and recruitment needs by detailing the range and standard of competences required.
Recruitment agencies
The Framework can help recruiters match candidates to jobs by recognising the combination of knowledge, skills, abilities, and personal attributes needed.
Learning providers
The Framework can support structured CRS learning. It is also a helpful resource for those developing courses and qualifications, including academic institutions.
Clients
The Framework can assist companies that employ CRS practitioners, helping them assess applicants' competencies, the standards they can expect, and what functions they can perform.
Others
The Framework can also help those who want to understand more about CRS, such as students, people considering a new career, and those in other professions who engage with CRS topics.