Fireside Chat: philanthropy and financial support charities
Our fourth Fireside Chat held on Friday 17 April focused on Philanthropy and Financial Support for Charities. As financial support for charitable organisations working to help the most vulnerable in our society becomes more vital, we discussed how business can continue to uphold their charitable commitments. With NCVO predicting that funding for UK charities could be reduced by as much as 48%, we're already seeing an impact.
David Logan, Founder of Corporate Citizenship and ICRS Board Director, opened the discussion by delving into the history of corporate charitable giving, highlighting the importance of mobilising individuals within companies to support community causes as well as the impact of gifts-in-kind.
The importance of the generosity of individuals should not be overlooked. Historically, corporate giving represents a relatively small proportion of charitable income, only 5% in the US, and it's estimated that individual giving in the UK amounts to around £10 billion. Furthermore, companies of all sizes can provide gifts-in-kind support that reflects the unique offering of their organization. Even the small service station on the side of the road can play a critical role.
Jack Leech and Janek Seevaratnam from ICRS Patron Member, The Charities Aid Foundation, provided insight into UK and global corporate giving trends and the challenge for companies to maintain their strategic philanthropic commitments in the face of increasing local need, and what impact the pandemic will have on those long terms strategies. These thoughts were summarised creatively in the following doodles by Janek: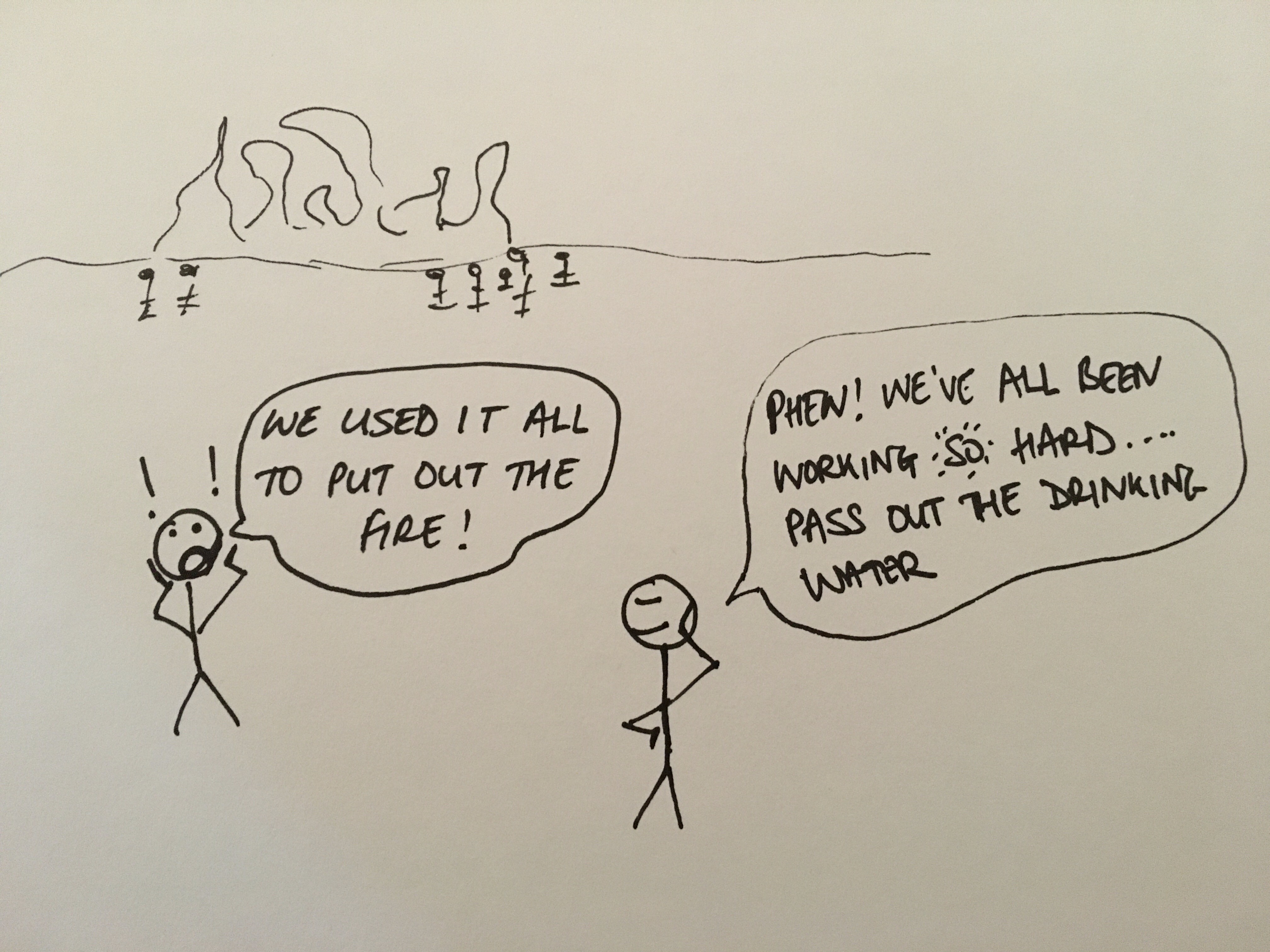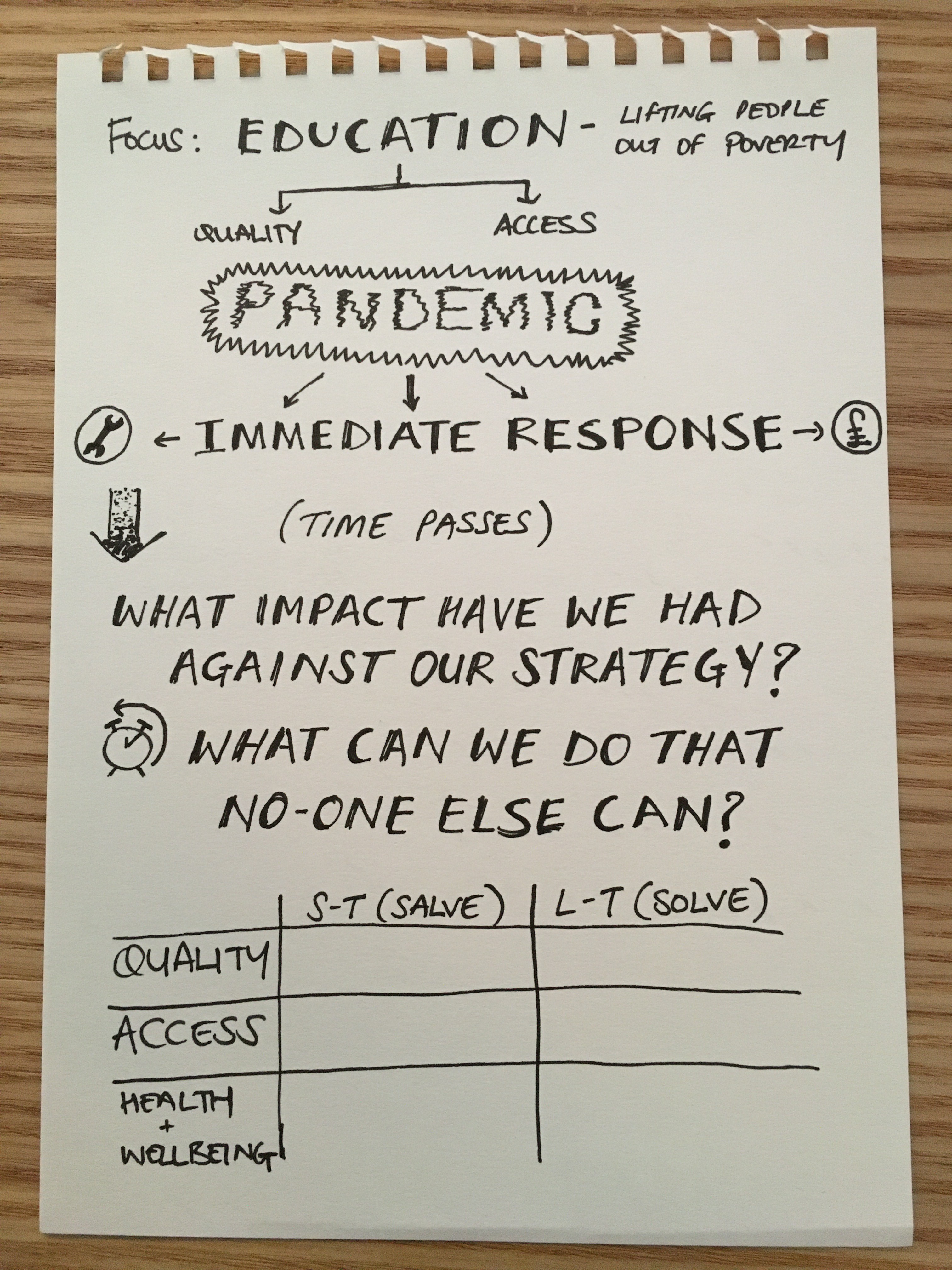 Whilst the business and government response has been swift, there is still a shortfall for charities, particularly those with an environmental and climate change focus as the previous momentum building to COP26 has disappeared. CRS practitioners may struggle to fix their priorities in terms of charitable giving in both the short and long-term. There is a current focus on supporting UK-based charities who are directly responding to the pandemic, but it is crucial for business, particularly those with international supply chains and a more global view, to recognise their role in supporting response efforts in Asia and Africa, a point echoed in our previous Fireside Chat on communications. It may be that corporate foundations will have the flexibility to take a more long-term approach to their funding priorities and provide this holistic response. However, it is obvious that philanthropic capital is finite and businesses will need to factor this—as well as resilience building—into their overall charitable giving strategies going forward.
On a more optimistic note, the collective generosity and sense of civic spirit that has developed could engender further giving and support, as demonstrated by the extraordinary and inspirational fundraising of Captain Tom Moore.
Our next Fireside Chat on 24 April will focus on Resilience and Employee Wellbeing and feature Karin Mueller, Founder and Managing Director of Liebfrog Coaching and ICRS Board Director. In the meantime, you can find all the resources shared by our members on our Covid-19 resource area.
If you have thoughts on how the ICRS can support you, please email info@icrs.info. We're encouraging our members to share examples of how they're responding to the pandemic so be sure that you're also a member of our members-only LinkedIn Group, The Exchange Online.