Aspire Hub Masterclass - Skills for CRS: Building a Strong Foundation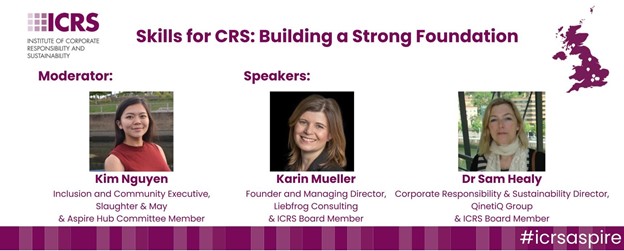 The Aspire Hub's latest webinar explored the skills needed for a career in CRS, with speakers Karin Mueller and Dr Sam Healy sharing lessons from their careers.
Sam is currently Corporate Responsibility and Sustainability Director at Qinetic Group, having started as a geophysicist and moved into environment-focussed roles. Karin started out in marketing and corporate affairs, and worked in CRS roles before becoming a leadership coach and setting up Liebfrog Consulting. Karin and Sam both highlighted during the webinar that there is no one path to a career in CRS, with a wide variety of roles available which need people from a range of backgrounds.
If you missed the event, you can view the recording here.
Be intentional in your career
Karin's main piece of advice to aspiring CRS professionals is to be intentional in your career. She recommends looking forward 5 to 10 years, and asking yourself what kind of impact you would like to have. Consider your values, what inspires and motivates you, and what sort of organisation you would enjoy working for.
"If you don't know what you want, you'll never find it" (quote from Ryū Murakami)
A career plan should not be static - you will need to revisit it regularly to reconsider whether anything has changed. And of course there are lots of different paths you might take to get where you want to be. However, having a plan helps ensure that you are moving in the right direction, and can help you decide when to make tough decisions like leaving a job which you enjoy but is no longer allowing you to develop and achieve your goals.
Never stop learning
Sam highlights the importance of continuous learning, arguing that it is absolutely necessary that we make time for our own development. The world is changing faster and faster and we need to ensure that our skills are also developing in order to be ready for the challenges of tomorrow.
The ICRS Competency Framework is a useful tool which can help you decide where to focus your development. It is deliberately designed to be broad, taking into account the fact that no two CRS roles are exactly the same and people will be at different stages in their career. Sam recommends considering each of the skills and identifying which you enjoy or have experience in, and which you need to develop in order to be successful in your current role or secure your next role.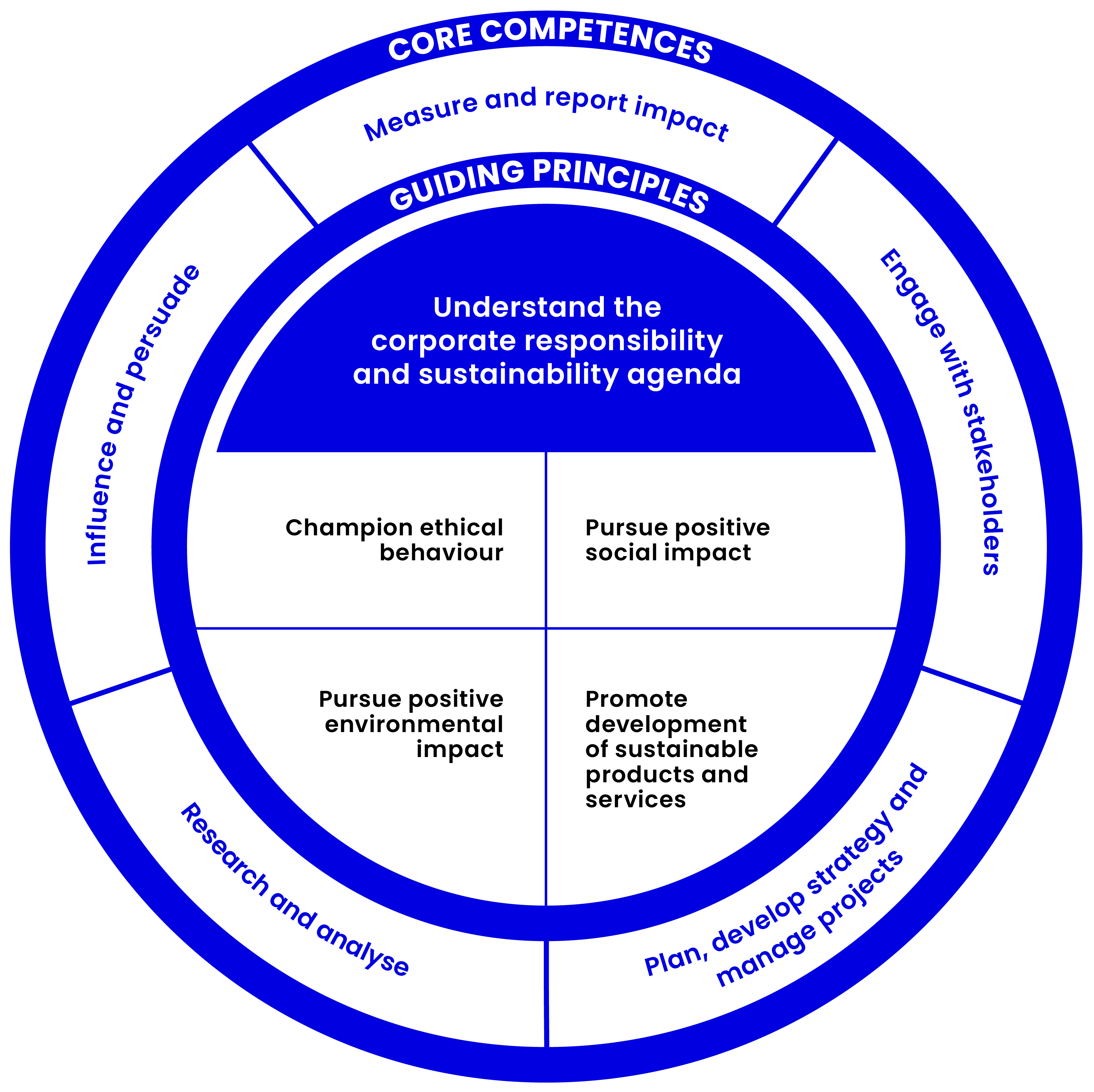 Learning does not always have to be through formal courses. People often talk about the 70-20-10 model, which means 70% of learning is on the job, 20% mentoring and working with colleagues, and 10% through formal courses. Sam and Karin both highlight the importance of networking in CRS, and the value of speaking to other CRS professionals to learn from their experience.
Create your own pathway
Several attendees asked questions about finding opportunities to develop CRS experience as a student or when working in a non-CRS role. Sam highlights the importance of doing what you love - if it's the environmental aspect of CRS which interests you for example, look for opportunities to get involved in environmental groups on campus or within the organisation.
It is important to create your own opportunities rather than waiting for something to be offered to you. This could be approaching a colleague who is working on an interesting project to offer your support, or setting up a CRS-related group within the organisation to look at things like environmental impact or community volunteering.
It's all about transferable skills
It can be intimidating reading a job advert which has a long list of specific CRS-related requirements. However organisations are usually more interested in the whole person than a few specific skills.
Sam and Karin both discuss the value of transferable skills. Whilst specific CRS knowledge is useful, this is often something which can be learned on a job. More general skills such as leadership, project management, chairing meetings and influencing can be developed in many different roles. This includes voluntary roles - can you take on a leadership position in a society at university, or volunteer to help organise a community group? Sam discusses the need for courage in developing yourself - ask for opportunities and think outside the box when it comes to building up your experience.
Build up a strong network
The CRS profession is a community, and CRS professionals are usually open to working with others to help them succeed. Sam says that she regularly calls people in her network to discuss how to overcome challenges in her job.
The ICRS is a really useful way of building a network, with events running throughout the year and a range of hubs focussed on different parts of the profession and in different locations. Mentoring can also be really valuable, whatever stage of your career you are at, and again this is something that the ICRS can help with through its mentoring scheme. You can find out more here.
About the Aspire Hub
The Aspire Hub is led by a dynamic group of CRS professionals who work in a variety of industries, from the financial sector to higher education. The network was set up for new and aspiring CRS professionals to share learnings and resources, to educate and help build networks. The Hub is fast-growing and currently has over 250 members.
For any questions about the Aspire Hub or the webinar, please contact aspire@icrs.info.
If you are a new or aspiring CRS professional, please join the Aspire Hub's LinkedIn group here.