Annual Debate 2017: Has CRS entered its own echo chamber?

Each year, the ICRS Debate provides a forum to discuss the big issues in corporate responsibility and sustainability. On 1st December, over 65 members came together at the RSA in London to debate the question 'Has CRS entered its own echo chamber?
Filter bubbles and echo chambers – these are the defining buzzwords of 2017. We've seen a rise in populism, fake news, and the apparent dismissal of 'expert opinions'. This, coupled with declining trust in institutions, has serious implications for many organisations. As CRS professionals, we're fortunate to have our feet in lots of different camps – we talk with our colleagues across business, and steward relationships with a range of stakeholders. But as a body of CRS professionals, are we progressing? Or, are we at risk of entering our own echo chamber?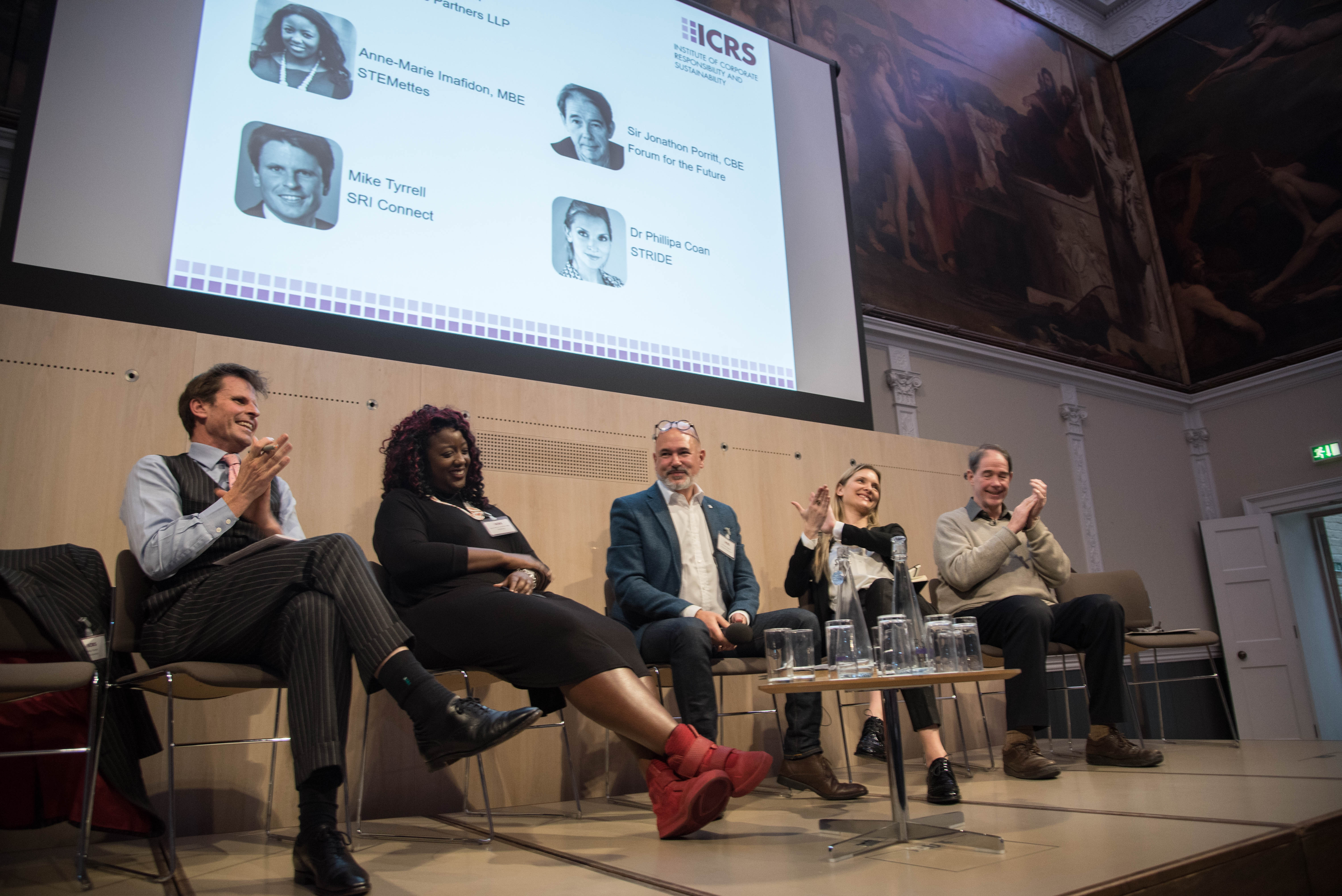 To debate this question, we were joined by a panel of CRS leaders: Sir Jonathan Porritt CBE, Mike Tyrrell, Anne-Marie Imafidon MBE, and Dr Philippa Coan.​ The panel was expertly led by Dr Simon Hodgson.
Please read on for a summary of the debate, which gives a flavour of each panelists opening positions and debating remarks.
Summary of the Debate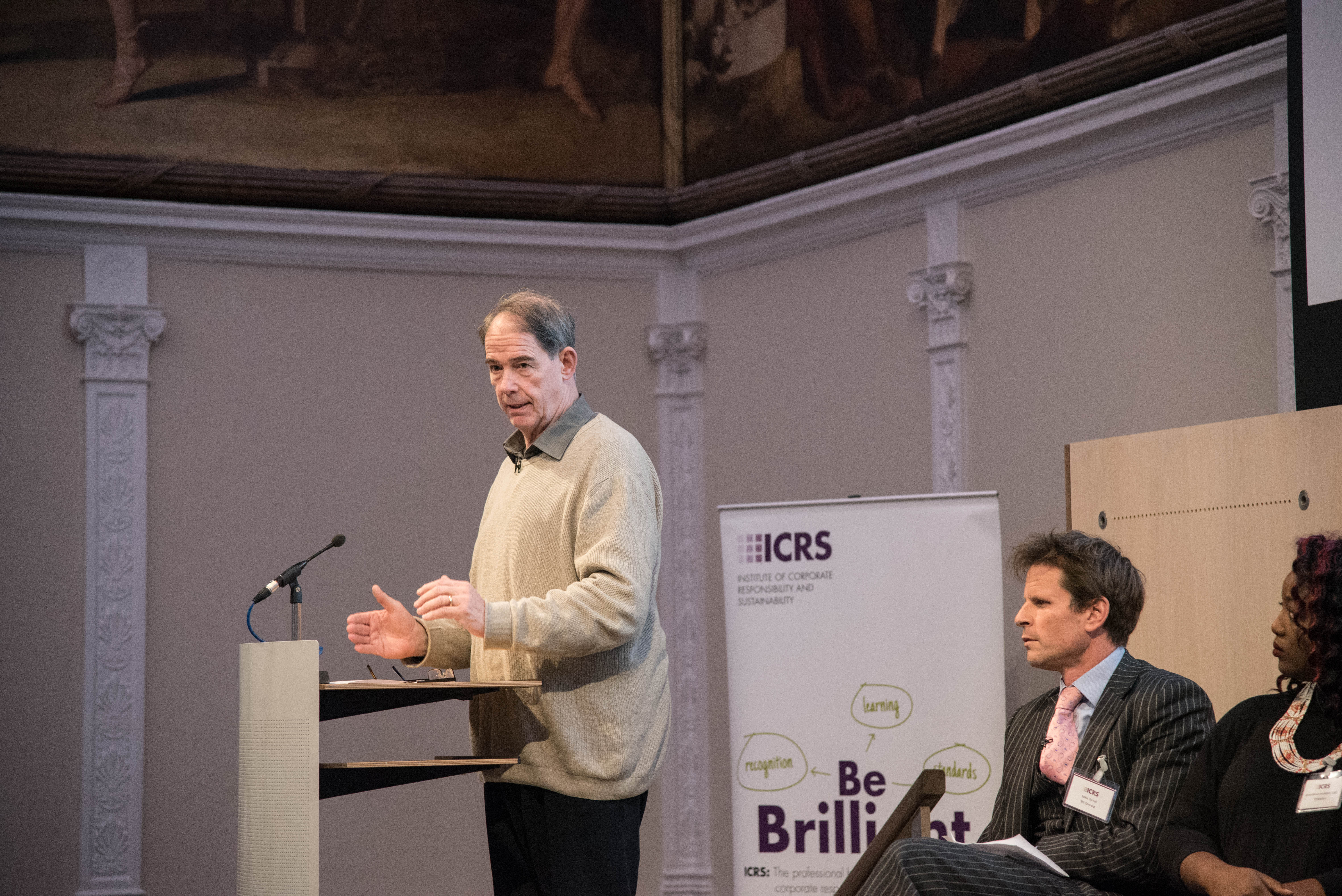 Sir Jonathon Porritt

Opening position: We must honestly challenge structural, inherent inequality in the corporate world, particularly the supremacy of shareholder capitalism; it is unsustainable and stops basic levels of fairness. And our current levels of unsustainability are profound – an enormous change is required. Regrettably, our current model of Corporate Responsibility's focus is on doing less harm, i.e. reducing the damage that we do. But, doing less harm is inadequate. In this regard, we are showing some evidence of being in an echo chamber.
Other remarks: Is CRS a middle-class liberal elite? Probably. But history suggests that all revolutions actually start in the middle classes – that may not be a problem. But if we are not open to diverse narratives we will stay stuck in our echo chamber. For example, how do we engage the people who voted for Brexit and Trump, those in left-behind industrial or seaside towns? Government has a very poor record on the type of sustainability issues that matter to them (fuel poverty, energy prices, housing). We must also look at issues through the eyes of younger people and find ways to involve them.
What's missing? No company ever invites in storytellers. And sustainability has a real deficit when it comes to people with a sense of humour.
In our current model, corporations are not out there to change the world. They are out there to sell. Sustainability will only get managed if it is compatible with this, and we should not fool ourselves otherwise.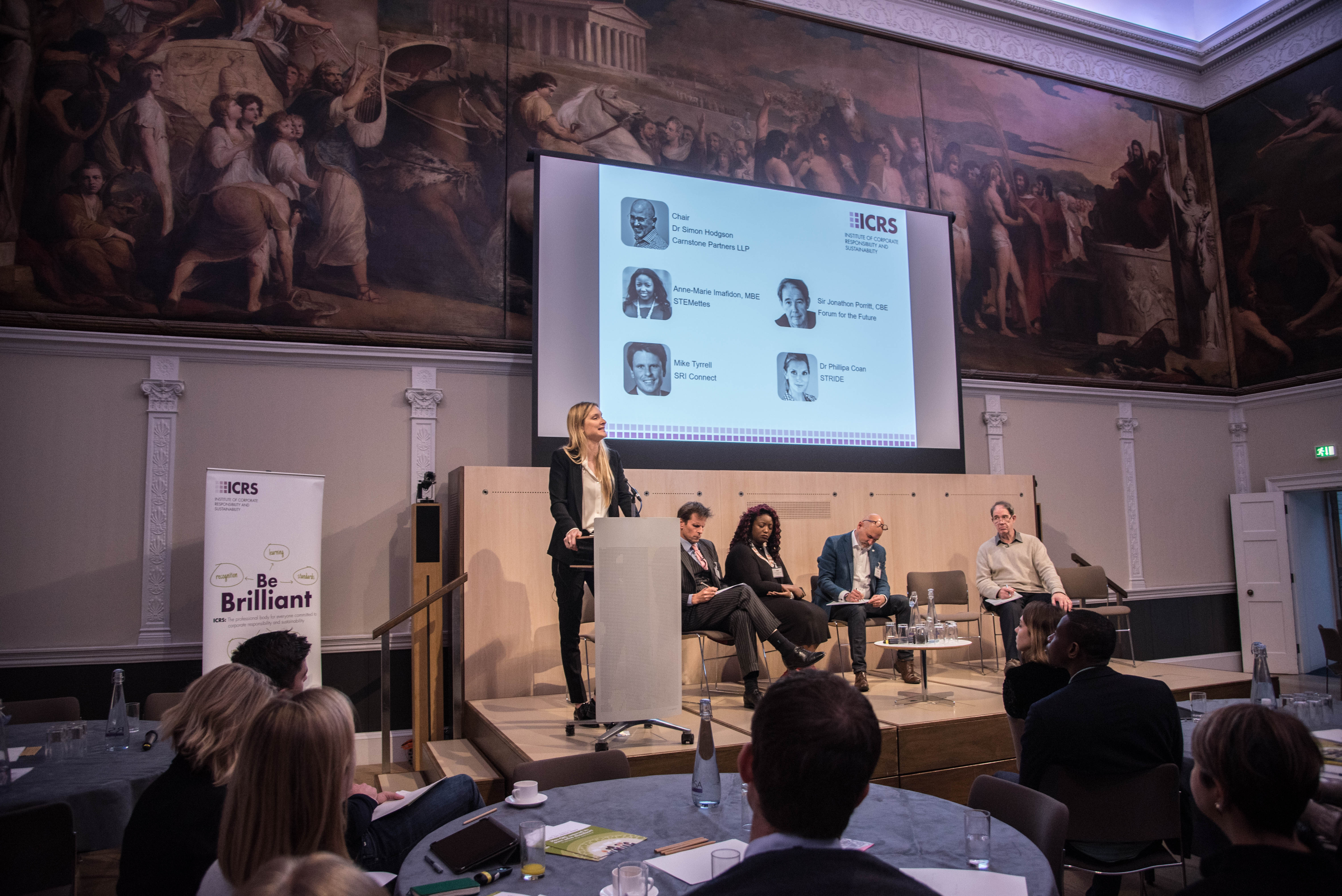 Dr. Phillipa Coan
Opening position: There is evidence both for and against CRS as an echo chamber. Homogeneity and a lack of diversity suggest it is. Many of us in CRS have the same world-view. On the other hand, CRS has a good track record of pubic engagement and debate. 86% of millennials believe that corporations need to address climate change, and 76% want to use their skills for social good.
Other remarks: Companies need to shift focus from profit margins to properly considering social and environmental capital.
We can make significant improvements to becoming more diverse in business generally, and we in CRS should surely be role-modelling that. We need to look beyond the sustainability team to gather input from elsewhere in the organisation, and externally. This will lead to more divergent thinking and innovation.
When it comes to successful external engagement, we must speak to the target audience, don't make assumptions.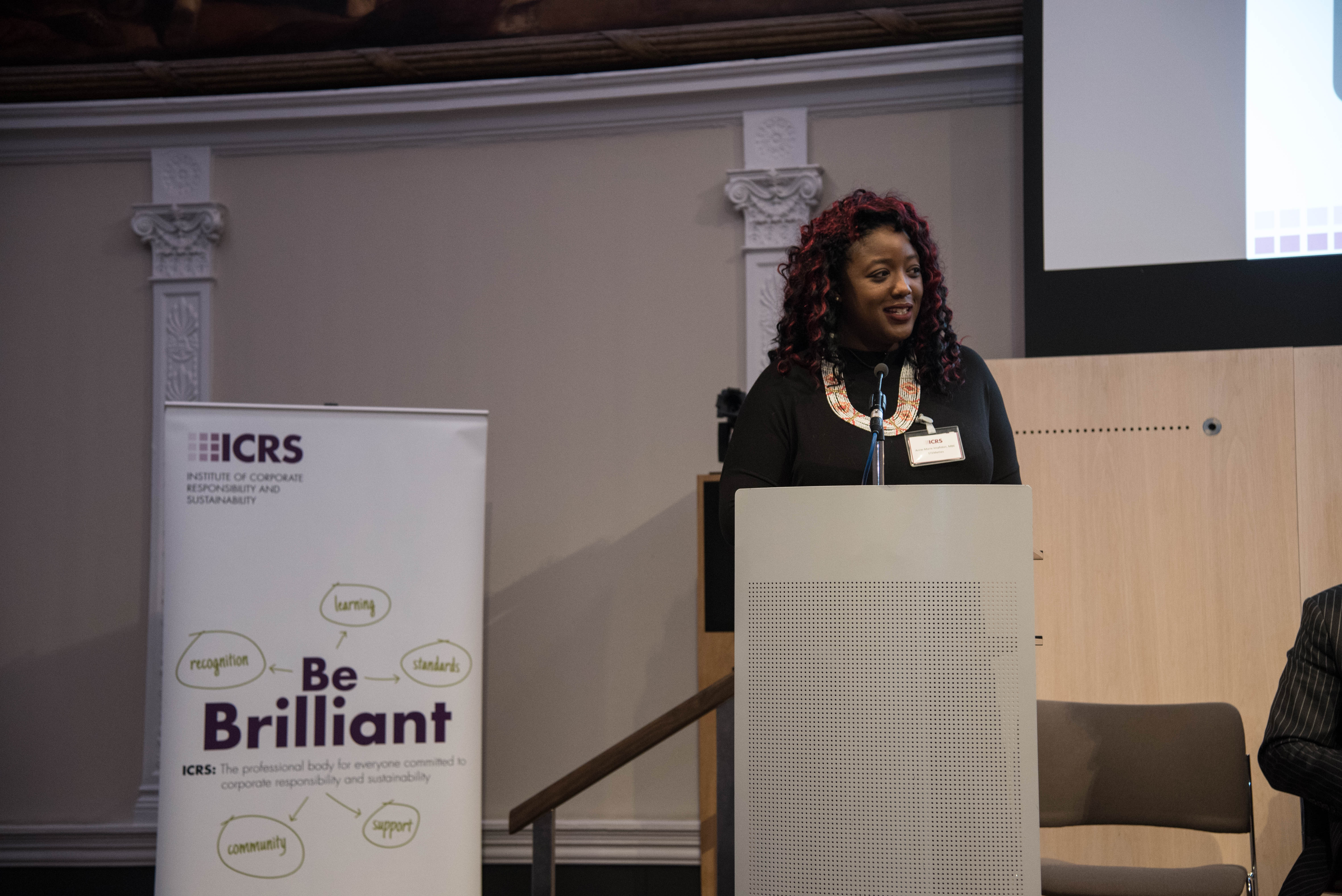 Anne-Marie Imafidon
Opening position: Are CRS in a bubble? I don't know. But I do know about my own industry and the tech industry is certainly in a bubble. So, I come as a sort of 'Ghost of Christmas Future' to warn you. Tech is supposed to help society but if the people designing and making it are all the same type of person, then that help can be limited. The failure of voice recognition to cope with regional and ethnic accents is a great case in point. Diversity in your industry will make your products better.
Other remarks: Technology is nothing without people and how they adopt it. We need tech to work in harmony with people to boost what we do, and how we do it, and multiply its impact. And we as sustainability professionals need to embrace the technology and really get involved.
The way to stay relevant and competitive in the market place is to expand and explore what is outside of the bubble. If trying to solve problems for all in society, we need diverse voices from society.
CSR is doing a good job of making information accessible but it is not enough. It can do more to disseminate information.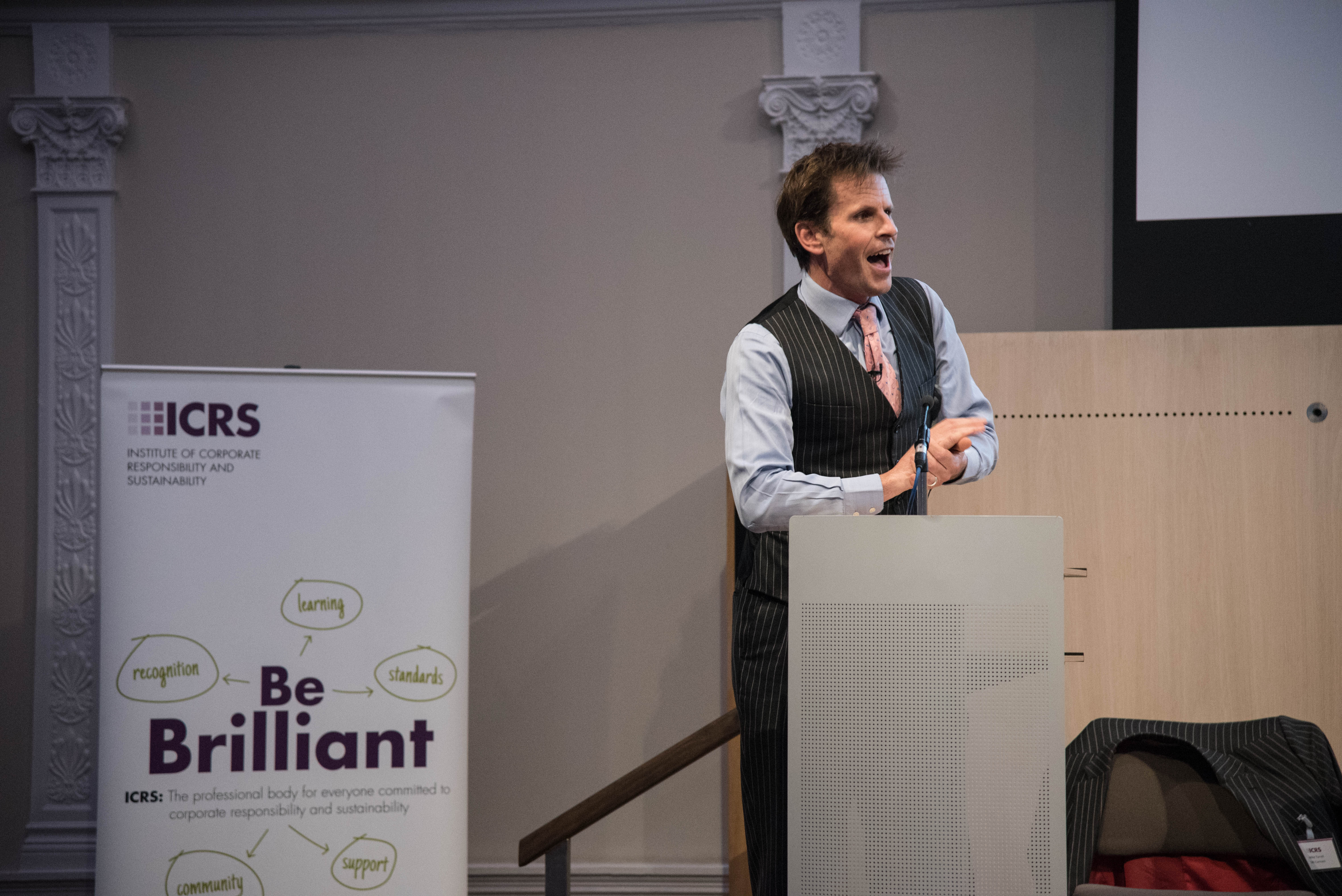 Mike Tyrrell
Opening position: CRS (particularly sustainable investing) is certainly in an echo chamber. The question is; does that matter? Echo chambers can be good things. They are incubators where we can test concepts. And, they keep us sane and strong. But echo chambers can also lead one to become intellectually lazy because they provide no challenge.
Other remarks: Other sectors also have echo chambers, for example the irrational bias by mainstream investors that climate change doesn't matter.
You can also find echo chambers inside corporations. For example, why do we feel the need to send and complete SRI investor questionnaires? (By the way, the investor relations team should complete them, not the CRS team!)
We must learn to burst out of our echo chamber as the problems are on the outside. To help us do this we need technology. We need the kids.
Oh yes, there is no evidence that investors are short-term in their thinking. That is an anecdote from the movies.

Thanks to our Chair, Dr Simon Hodgson, from Carnstone, for facilitating an interesting debate and an insightful conversation.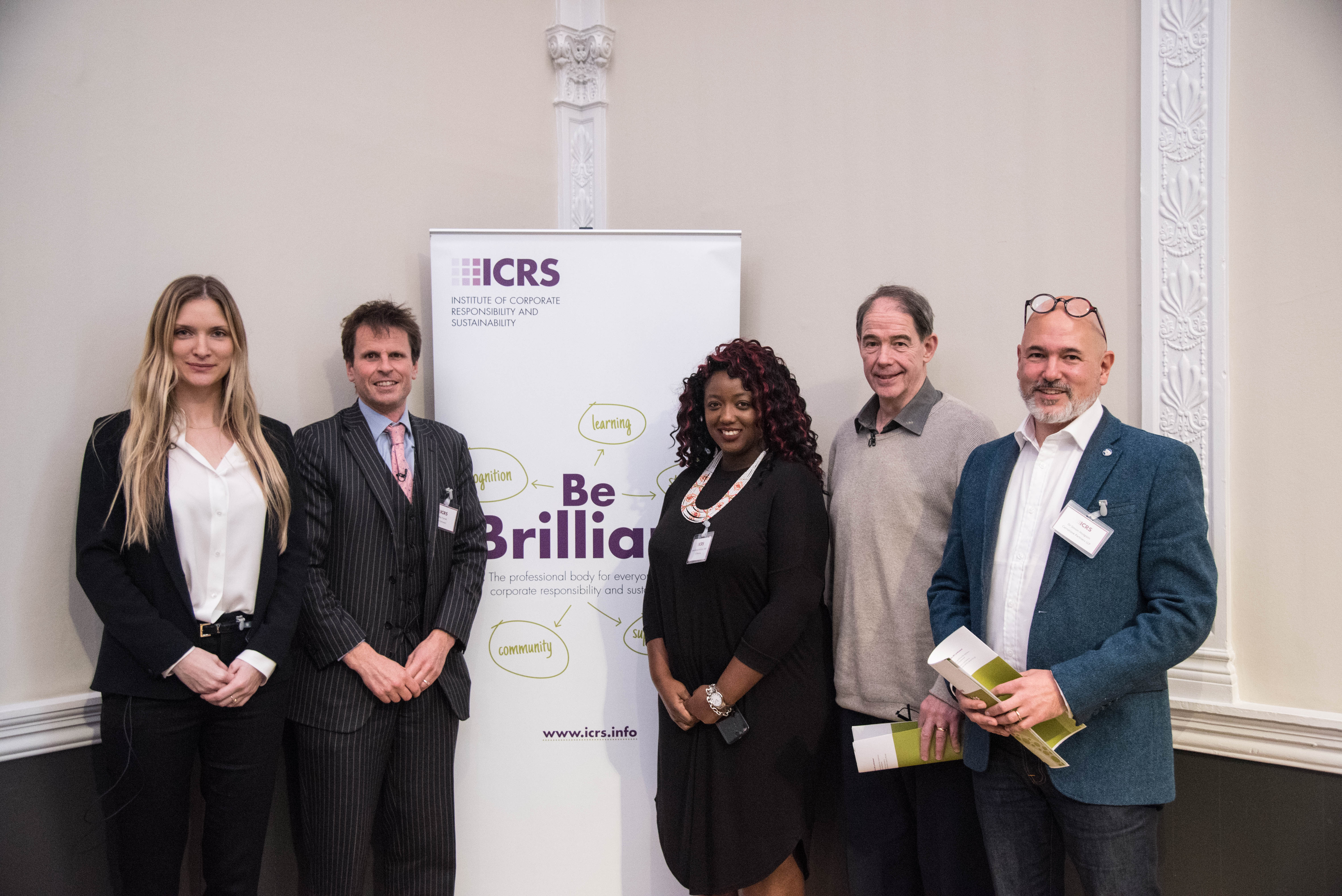 ​And our heartfelt thanks also to Debate Mate, who opened our event with a lively audience led debate, addressing the age old question of whether great minds think alike. An excellent argument was put forward both for and against by the teams of school children and debating professinals. 
Debate Mate are a global charity and social business based here in London. They specialise in teaching good debating and listening skills, across schools and businesses.